Hotel Fiorenza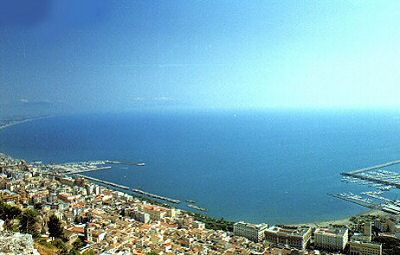 BOOKING FORM - RICHIESTA PRENOTAZIONE
---
Albergo di seconda categoria, completamente rinnovato ed adeguato alle nuove norme sulla sicurezza, situato ad un solo chilometro dall'uscita della tangenziale, a 100 metri dal mare.

Dotato di confortevoli camere, tutte con servizi privati, aria climatizzata regolabile, telefono diretto, TV color, radio e filodiffusione, frigo bar, cassaforte.

L'albergo dispone di un elegante bar, ampie sale attrezzate per riunioni, parcheggio e garage privati, Internet Point, servizio fax e fotocopie, medico su richiesta, servizio in camera continuato.
Bar,
Camere,
Si accettano animali,
Zona panoramica,
Parcheggio privato,
Telefono in camera,
Bagno con doccia,
Tv Color,
Cassaforte,
Aria Condizionata,
Frigo Bar,
Si accetta Carte di Credito,
---
Dove siamo:

---
It is a second-class hotel, totally redecorated and conformed to safety rules, it is situated only one kilometer from the bypass road tangenziale exit, 100 meters far from the sea.

It is provided with comfortable rooms with private bathrooms, regulatable air conditioning, direct phone, TV color, radio and cableradio, fridge-bar, safe.

The hotel has an elegant bar, large meeting rooms, parking and private garages, Internet Point, fax and photocopy, doctor on request, all-day opening room service.
Bar,
Rooms,
Animal Accepted,
Panoramic Area,
Private Parking,
Phone in room,
Bathroom with shower,
Tv Color,
Safe,
Conditioned air,
Minibar,
Credit Card accept,
---
Where we are:

Hotel Fiorenza
Via Trento, 145, Salerno, SA, Italy